Blog
Fall Harvest Salad; by Nutrition in the Kitch
It's time to finally get your holidays started with a healthy, nutritious, and mouthwatering all-natural dish! 
Loaded with flavorful ingredients that include sweet potatoes, green lettuce, beets, apple, cranberries, pumpkin seeds, and Extra Virgin Olive Oil, Nutrition in the Kitch's Fall Harvest Salad is exactly what you need on your plate.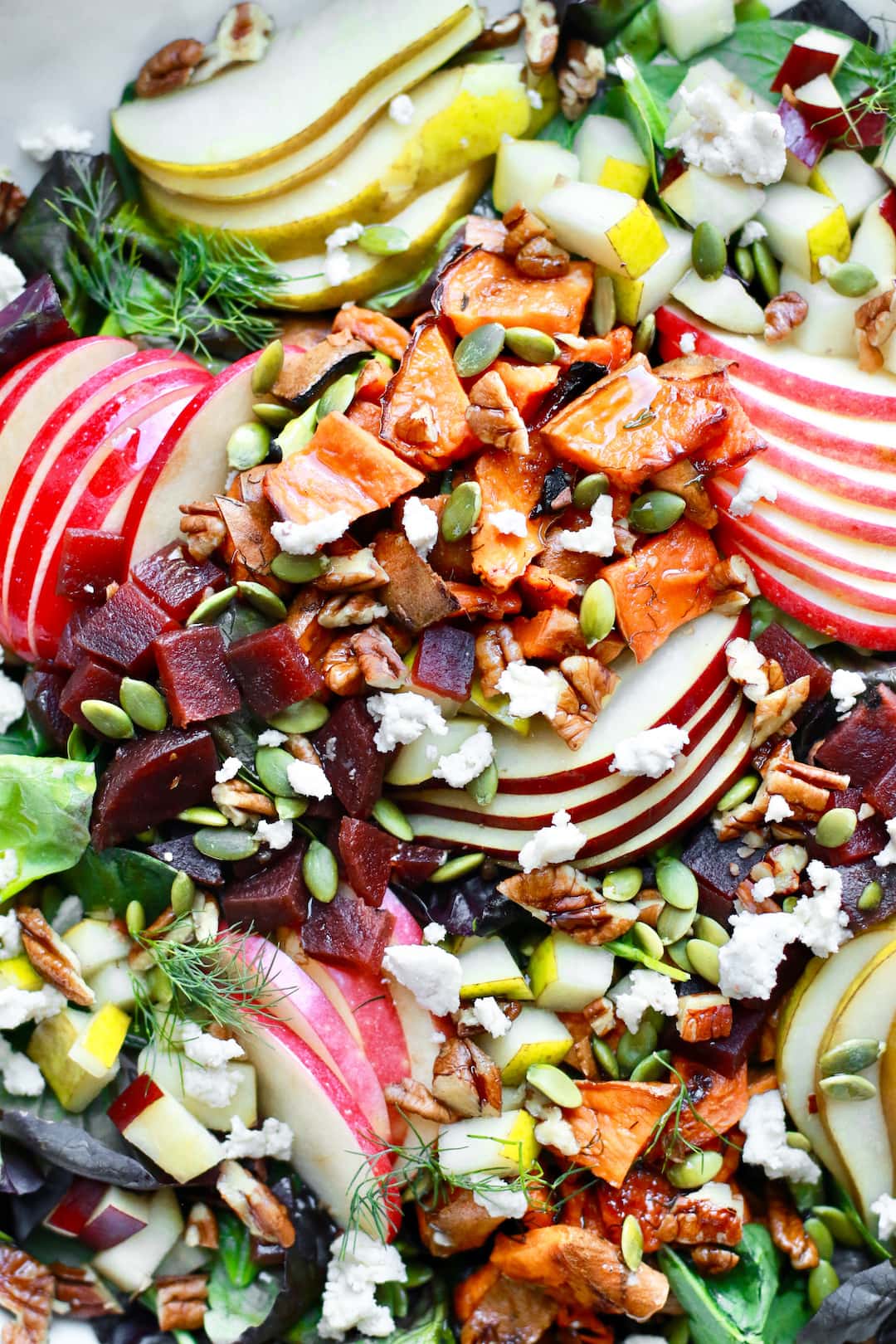 Ingredients:
10 cups mixed greens lettuce
1 cup sweet potato, diced into small cubes
1 cup red beets, diced into small cubes 
¼ teaspoon salt
1 gala apple, sliced or chopped into cubes
1 ripe pear, sliced or chopped into cubes
¼ cup pumpkin seeds
¼ cup chopped pecans
¼ cup crumbled feta or dairy-free feta
¼ cup dried cranberries
For Almond Apple Dijon Dressing
¼ cup almond butter
2 tablespoons grainy Dijon mustard
3 tablespoons raw honey
2 tablespoons unsweetened applesauce
2 tablespoons pure apple cider vinegar
Directions:
Preheat the oven to 400 degrees.
Spray a baking pan with cooking spray, and toss the sweet potato and beets with salt to season.
Roast for 20 minutes or until just browned.
Set beets and sweet potatoes aside to cool completely

 

(you can also roast them the day before to save time!)
In a large serving bowl add mixed greens and layer with the apple, pear, cooked beets and sweet potatoes, pumpkin seeds, pecans, cranberries, and crumbled feta or dairy-free cheese.
Using a hand blender

 

(I used my KitchenAid 2-Speed Hand Blender)

 

add the dressing ingredients to a bowl

 

(or the container that comes with the hand blender)

 

and blend the dressing for 1 minute until completely emulsified

 

(alternatively you can add ingredients to a jar and shake vigorously until all ingredients are blended and the dressing is emulsified).
Warm the dressing in a saucepan, or keep at room temperature, or chill, then drizzle over salad just before serving!
Enjoy!
For more excellent recipes, visit https://nutritioninthekitch.com/recipe-search/
Leave a comment (all fields required)
Comments will be approved before showing up.