Blog
Slab Sandwich with Olive Tapenade; by Alexandra's Kitchen
What's a summer without a super healthy, yummy, and deliciously unique slab sandwich? Definitely a boring one! 
Made with fresh and fine ingredients, Alexandra's Kitchen's Slab Sandwich with Olive Tapenade is a must-try. It shares a sense of a relaxing summer in every bite. Try it, love it, have it be your new go-to.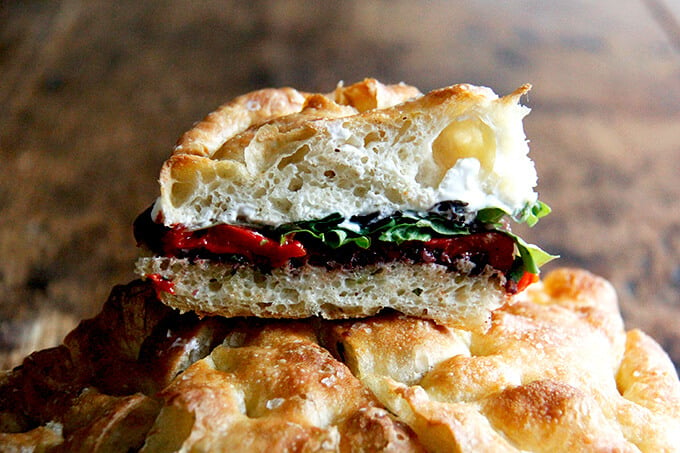 Ingredients:
For the roasted red peppers:
6

 

red bell peppers, halved and seeded
For the whipped goat cheese:
For assembly:
Directions:
Preheat the oven to 425ºF. Line a rimmed sheet pan with parchment paper (for easy clean up — make sure it extends over the edges). Place peppers cut-side down on parchment paper. (Alternatively, rub a small amount of olive oil on the sheet tray.) Place pan in the oven for about 30 to 40 minutes, until the skin is blistery and charred. Don't be impatient here: If the skin isn't blistery enough, the peppers will be difficult to peel.
Place the peppers in a large bowl and cover with a cloth bowl cover or plastic wrap. Let sit for at least 20 minutes and up to 4 or 5 hours (or longer.) When cool enough to handle, remove the skin and discard.
Meanwhile, make the whipped goat cheese: place the goat cheese, honey, and milk in a food processor. Purée until smooth, adding more milk as needed to reach a creamy, spreadable consistency.
Assemble the slab sandwiches: Use a serrated knife to halve each focaccia round in half crosswise. Spread the tapenade over one bottom half of each pair of bread rounds. Spread the whipped goat cheese over one top half of each pair. Top the tapenade with a layer of roasted red peppers. Pile greens or arugula over top. Close the sandwich. Present the assembled slab on a large board and cut into individual sandwiches just before serving.
For more excellent recipes, visit https://alexandracooks.com/recipe-search/
Leave a comment (all fields required)
Comments will be approved before showing up.