Blog
Stuffed Grape Leaves; by Heart Healthy Greek
Stuffed Grape Leaves, also known as Dolmas, are one of the most famous & iconic Mediterranean dishes. The deliciousness they provide is incomparable, like no other!
These Stuffed Grape Leaves, by Heart Healthy Greek, are loaded with a combination of flavorful ingredients, making this recipe one of our very favorites. Tip: Add in a little fun by cooking it with a group of friends or family!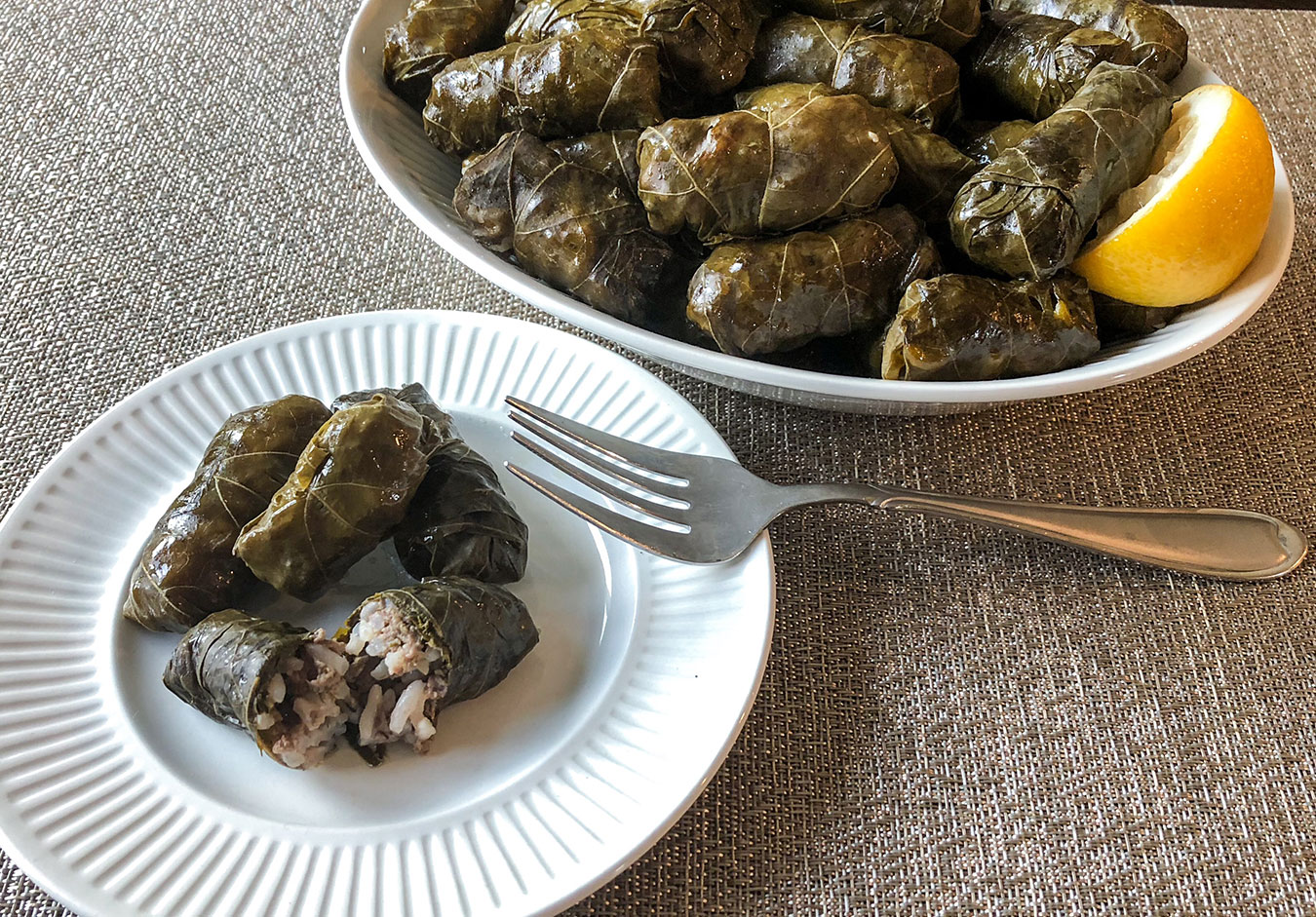 Ingredients:
100

 

grape leaves

 

fresh or jarred

1

 

pound

 

lean ground beef

1

 

cup

 

uncooked rice

1

 

medium white onion

 

finely chopped

2 ¾

 

cups

 

chicken broth

1½ – 2

 

lemons

⅓

 

cup

 

fresh dill

1 ½ tbsp Hiç Premium Extra Virgin Olive Oil

1

 

tsp

 

salt

1

 

tsp

 

pepper
Directions:
In a bowl mix the ground beef, uncooked rice, onion, 3/4 cup chicken broth, juice of 1 lemon, dill, salt and pepper.
To blanch the leaves place them in boiling water for a few seconds then put them in a colander to drain.
Lay 1 leaf vein side up, place 1 tsp of mixture close to the stem. Next fold the sides in and roll upwards. (If the mixture begins to dry just add more chicken stock)
Line the bottom of a stock pot with a few leaves.
Next, in the stockpot, start to place the rolled grape leaves tightly together in a circular pattern. Continue until all of the leaves have been filled and placed in the pot.
Drizzle with olive oil and cover with extra leaves
Add in 2 cups of chicken broth and the juice from ½ of a lemon. Then place the squeezed lemon in the pot as well.
Cover the pot with a lid and bring to a boil.
Once boiling immediately reduce to a simmer and cook for 45 minutes, or until most of the liquid has been absorbed and the rice is soft.
Before serving add a squeeze of lemon juice on top of cooked

 

grape leaves.
For more excellent recipes, visit https://www.hearthealthygreek.com/recipes/
Leave a comment (all fields required)
Comments will be approved before showing up.